Birthday & Special Occasion Cakes
(See our wedding cakes page for wedding pricing)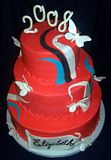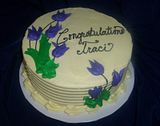 Mix and match your favorite cake, filling and icing flavors to create a unique cake for that special someone. Your options are only limited by your imagination! We can match your theme or invitation from the simple to the extravagant. Check out our photo album for a few ideas for birthdays, showers, anniversaries, and more. Make sure you also check out our sculpted cakes!
The following pricing is for our
Sour Cream White Cake,

Decadent Chocolate Cake,

White with Chocolate Swirl,

Tuxedo Cake (layer of white & chocolate)
with our house vanilla buttercream
*Price Includes Message and Simple Classy Design.
*Specific colors or designs priced per order.
*Add 25¢ per serving to add a filling
8" Double Layer...Serves 15...$30.00
9" Double Layer...Serves 26...$40.00
10" Double Layer...Serves 32...$48.00
1/4 Sheet...Serves 20...$30.00
1/3...Sheet Serves 30...$40.00
1/2...Sheet Serves 40...$50.00
*Additional charge for Premium Cake Flavors, Fillings and Premium Buttercreams. See our Specialty Cakes page for cake & filling combinations & pricing.
---
Tiered Cakes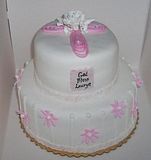 3 tiered Buttercream Racing Cake 2 tiered fondant baby shower cake
serves 100 serves 35
$225.00, car not included $117.00
Tiered Cakes are not just for weddings any more! Make your birthday girl or boy's eyes light up with a fun tiered cake from Dragonfly Desserts. Tiered cakes also make graduations, showers and anniversaries extra special.
Tiered Cakes start at $2.25 per serving
Fondant covered tiered cakes start at $3.25 per serving.
For lower price options, go to our Budget Wedding Cakes Page
---
Sculpted Cakes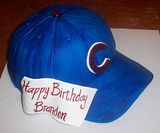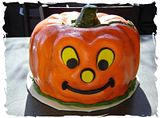 Sculpted cakes make fun and exciting centerpieces for any occasion. Covered in detailed, painted fondant, they are truly edible art!
Sculpted Cakes start at $4.00 per serving
(minimum price of $75.00)
To see our Sculpted Cakes photo album click here.
---
Fondant, gumpaste & chocolate art available for your cakes.
Here are a few ideas for add ons to your cake
Mini 3-D sports ball ..... $5.00 each
Large 3-D 1/2 sports ball on top of cake (5 servings) .... $10.00
First Birthday matching "Smash" cake with purchase of larger cake .. $6.00
6" Fondant Loop bow ...... $20.00
---
Contact us today!
Cheryl Brown
dragonflydesserts@gmail.com
402-641-5189