Dessert Buffet/Catering
When frozen mini desserts from the local supermarket just don't cut it for your special event, try delicious made from scratch desserts from Dragonfly. Our desserts are fresh with no preservatives, made with real cream & butter. Great for weddings, baby showers, church events, corporate events and social events.
$3.50 per person/ 50 person minimum
4 Dessert Choices
Add $1 per person per added dessert choice.
Approx. 3 minis per person
Desserts are 1-2 bites in size.
Price is for boxed, there is an extra charge for desserts on our contempory white porceline trays.
Fruit Topped Cheesecakes (in season fruit)
Lemon Curd Tartlets
Vanilla Cream & *Fruit Tartlets
Pecan Pie Tartlets
Cream Puffs & Eclairs
Ganache Glazed Brownie Bites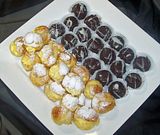 Almond Bars Lemon Bars
Pumpkin Bars
Mini Cupcakes in any gourmet flavor
Whoopie Pies
Glazed Sugar Cookies
Assorted Cookies
*Dipped Strawberries
Seasonal Items or your choice!
*Fresh fruits available only in season or additional charge
Turtle Cheesecake Bites Cheesecake with Strawberries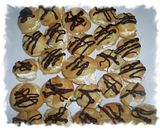 Cream Puffs Vanilla Cream & Fruit Tartlets
Chocolate Oblivian Truffle Torte
Dipped Strawberries Ganache Glazed Brownie Bites